Students' Guide
LiLa Portal - Students' Guide
You, as a student, will rarely have direct contact with LiLa itself. Typically, your lecturer will provide all the experiments you need to run for your homework or exam in the learning management system of your university. There are a few important caveats to this:
Experiments may, or may not require additional plug-ins to be able to run. Quite typically, a java plug-in or a flash-plug in is necessary. Make sure that your browser is up to date, and that you have installed all necessary components. Your teacher can help you to locate such components.
Experiments in the learning management system are either immediately available, or require booking. There is not much else to say about the first kind of experiment, just run them. Whatever is in them will be shown, and a description of how to use such experiments is beyond the scope of this manual. Please contact your teacher for more information on them.
For experiments that require booking, you need a booking code. If you want to access an experiment that requires booking, you will initially see this screen instead of the experiment itself:

This is an instruction for you to enter a booking code. Booking codes work like tickets for trains or busses: You get one ticket valid for one ride from your teacher, and the ticket then allows you to make a reservation on the experiment. A single reservation, not multiple ones. Your teacher should have provided you a booking code at the beginning of the lecture, probably by writing the code to the board, or by providing it in the learning management system.
Enter the booking code into the mask above, and click on Submit Query. Now, a calendar will appear that shows you the times at which the experiment is available. It may be blocked at times because your peer students want to access it and have already booked, or because even students from a completely different institution are using it.
The experiment will now be available at the time you have reserved. Please remember to write this down unless you have a good memory!
During that time, and only during that time, the experiment will becomes available for your use. Just navigate with your browser to the web page where you originally found it, say for example the learning management system.
Note that you cannot book the same experiment again before your reserved time slot has passed.
If the experiment is not on your LMS, or you just want to play a bit...
... you are of course invited to browse through the huge list of experiments on the LiLa portal. For that, open the link to the portal in your browser and click on the Explore button on the page:

This button provides a list of all experiments on LiLa, and allows you to locate experiments you might be interested in. As in your learning management system, experiments are not always freely available, and some of them require booking, so you might need the help of your teacher to obtain a booking code.

On the left of the search mask in the explore window, you may enter a scientific field, like physics or chemistry, of experiments that interest you.
On the top, you may optionally enter a title or a keyword you want to look for. A list of possible candidates found by LiLa will be listed below.
Click on the corresponding experiment in the results list to get a refined view on the experiment:

If you want to run the experiment, click on Detailed information and all the data the LiLa portal has on the experiment will appear: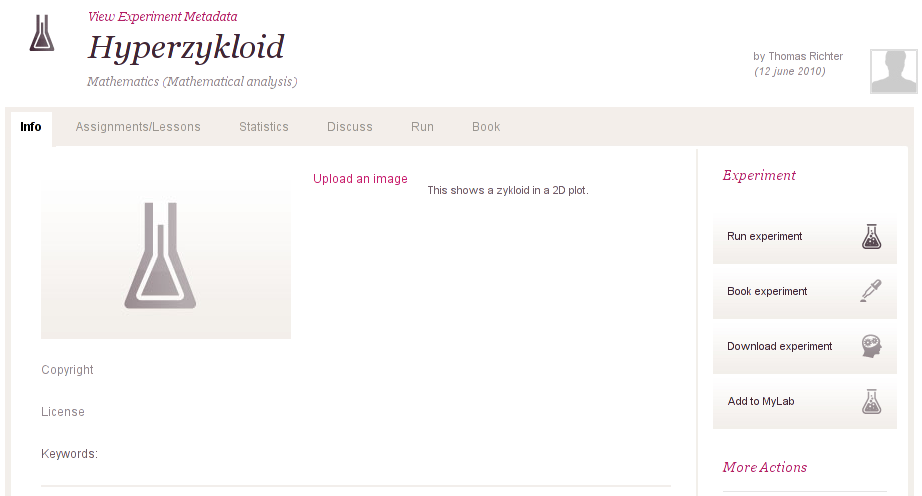 You may now start the experiment by simply clicking on Run experiment on the right; please don't be disappointed if not all experiments are available immediately because they require booking, and respect that peer students may also want to access them - and may have waited. Lots of experiments are free, and are immediately accessible.